About Det Gyldne Blad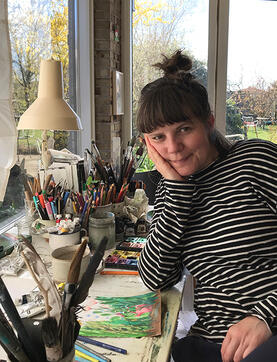 Meet the artist
Behind Det Gyldne Blad you find Stephanie Donsø, a Danish artist, illustrator and maker who likes storytelling and making you connect with your inner child. Stephanie has a background as a fine artist and years ago she graduated from art college in England. That also became a time where she became more aware of which part of the world she is from which is Denmark in Scandinavia. A little corner of the world where the seasons of the year are a big part of ones daily living.
Stephanies art has a special vibe connecting tenderness, warmth and the memory of childhood. It is sweet without being too sweet.

"I have made art for years, always thought of art and always exloplored different medias while the whole time 'having a thing' for childrensbooks and their visual appearence. I grew up with a mother who worked at the local library and my grandma read loads of childrens books for me. I was always a bit of a lonely kid being full of stories or disasters. I would draw for hours or make things by sewing and glueing. Years ago I felt stock in the art I was doing. It was like I had gone away from all the creativeness that really used to be me. Everything was about exhibiting and sometimes things became too conceptueal to me. I missed my natural creativeness from my upbringing and I came to the thought that I wanted to go in a direction where I could use some of the 'old me' into something new. In a way it felt very normal or natural so to speak, like coming home and I have thought a lot about that. With this new path I wanted a new name too, something that could be the umbrella for all I was going to do. I came up with the my brand-name Det Gyldne Blad which means The Golden Leaf. I love the inspirational Autumn season and Ooak threes has a special place in my heart so I painted an Ooak leaf for my logo".

To day Det Gyldne Blad offers prints and cards that could seem like taken right out of a childrens book speaking both to children and to soft-hearted adults. You'll also find cute cut-outs and paper dolls, little one-of-a-kind handstitched art dolls and brooches plus sometimes handcutted and painted ornaments.
Stephanies cards are also to be found in several craft and lifestyle shops round Denmark.

From Stephanies little home studio she balances between freelance and self-inititated projects while also running this webshop with all that comes with it - answering emails, manage orders and of course make all that is available in the shop. Sometimes she exhibits artwork made in her own name and sometimes you can find Stephanie at craft markets with Det Gyldne Blad. Recently the childrens book 'Liv' which Stephanie has illustrated has just come out. It is written be the author Anne-Sofie Allermann. Stephanie will during the winter 2023-2024 be working on another book.

Stephanie is not a city-person and lives close to forrests and lakes while also having a lovely big garden. She has a husband, Thomas, two kids, a cat, four chickens plus two little bunnies.


Thank you for stopping by!