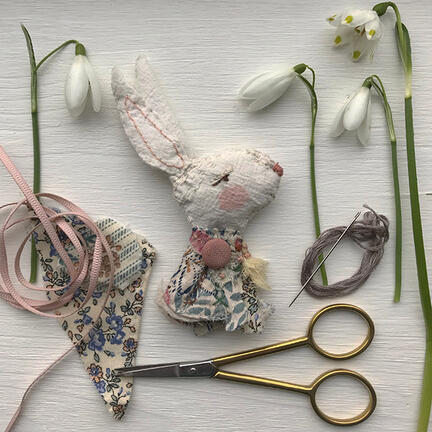 Handstitched bunny ornament
220,00 kr.
Description
Handstitched and one-of-a-kind little Bunny to hang as a wall ornament both on a picture wall and in the kids room. And oh, I think it got a lovely sophisticated expression.
I have sewn the Bunny of small fabric patch scraps and let the fabric ends stand raw as a contrast to the cuteness of the Bunny. The Bunny also wear an old vintage button on it's outfit.
On the back I have made a small hook out of yarn so that the Bunny may hang on a nail. You will also find a small badge with a beautiful writting on saying 'Det Gyldne Blad'.
The Bunny measures about 11 cm from top ears to end body.
It's face is embroidered and it has a rose-red cheek of watercolor.
I recommend not to wash the Bunny in the washingmachine.
Sorry, this item cannot be bought as there are no more in stock