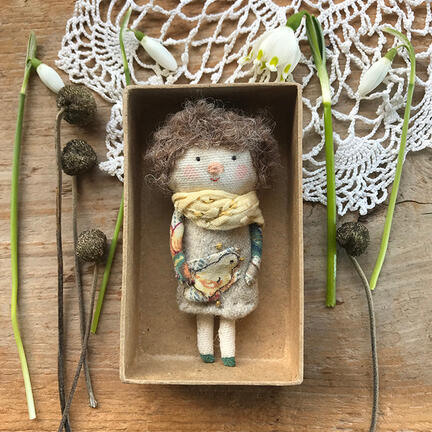 Little Easter Esther
396,00 kr.
Description
(More dolls are in the making)

Sweet Little Easter Esther with her Easter chicken on her dress, a lovely little friend at Easter time or all year round.
Esthers hair curls cutely as the hair on a little lam and her hair is also from Lama wool.
Esther is ment as a one-of-a-kind collectable doll, not a toy. She is little and delicate og needs to be taken good care of.
Esther is 100% handmade and stitched and meassures about 8,5 cm in length.
Her cloths are made of fabric scrabs of wool and cotton that har stitched on to her body and therefore does not come of.
Shoes are painted with acrylic.
Esther will be wrapped in a little lovely box.
Notice that Esther will not be happy about a spin in the washing machine.
Sorry, this item cannot be bought as there are no more in stock