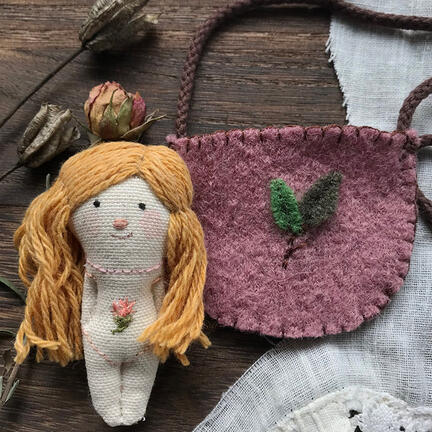 Pocket doll - SALE
200,00 kr.
Description

SALE - new price: 250,- kr before 350,-kr
Cute little pocket doll with neatly made embroidery details. A doll for both the adult collector, maybe as a lucky charm and the little kiddie who will have a lovely little doll friend to bring along.

The doll is one-of-a-kind.
Materials are organic cotton linen, cotton embroidery thread and cotton yarn.
The doll measures about 7 cm in height and 4 cm wide (head). Stuffing is a bit of natural non dyed wool. Pocket is wool fabric.
The string sewn on to the pocket is about 74 cm long.
Keep in mind that this doll is not suitable for children under the age of three as the doll is small and the wool pocket has a string.
The doll will not be happy about a spind in the washing machine neither will the pocket.
Doll may gently be washed with a damp cloth. Wash the pocket in handwash with wool soab.
Prices are incl. VAT