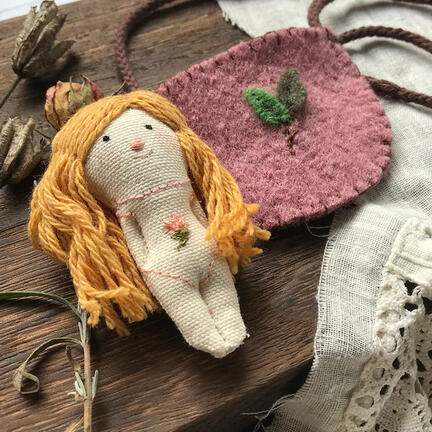 Pocket Doll - purple
248,00 kr.
Description
Pocket doll is what I call this doll as I have also made her a woolen pocket with a string so that she may be worn.
The doll is one-of-a-kind and both her and her pocket-bag are sewn and embroidered by hand with cute little details.

She is a doll ment for gentle play for kids above the age of three. Will also do as a perfect little lucky charm.

Materials are organic cotton linen, cotton embroidery thread and cotton yarn.
Stuffing is a bit of non-carded wool. Pocket is wool fabric.

Measures:
Doll: 7,3 cm in height, 4 cm wide (head).
Pocket: 7 cm wide and 6 cm height.
String sewn on to the pocket is about 74 cm long.

The doll will not be that happy about a spind in the washing machine neither will the pocket.
Prices are incl. VAT