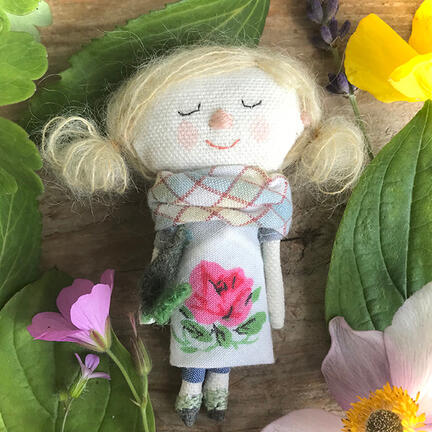 Summer
392,00 kr.
Description
RESERVED FOR ELLEN.
Little Summer.
Handsewn one-of-a-kind art doll stitched by hand from the very body to her wearings. A sweet little companion and a great gift.
Summer measures about 10 cm in height.
She is made of fabrics that come from discarded clothing. Her hair is made of organic wool yarn and she is also stuffed with a bit of wool from a local sheep farm.
Summers clothes is sewn on to her body and does not come of.
Her socks are embroidery and shoos are a bit op applied waterproof ink.
She does not like a spin in the washing machine and must be handled with care and lots of love.
Comes in a decorative little cardboard box.
Sorry, this item cannot be bought as there are no more in stock