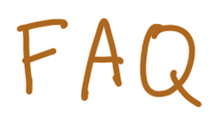 -

frequently asked questions
WHAT IS DET GYLDNE BLAD AND WHO IS BEHIND?

Det Gyldne Blad
is a Danish art-brand of art, illustration and stitched little artefacts made for the home environment for both big and small. Behind it all is the Danish artist Stephanie Donsø. 
Det Gyldne Blad
is located in Denmark in Scandinavia.
WHO RUNS
DET GYLDNE BLAD
AND THE WEBSHOP?

Det Gyldne Blad
 as well as the webshop is owned and runned as a one-woman operation by Stephanie Donsø, VAT-number. 28920261, Soldraget 21, 3460 Birkerød, Denmark, (+45)51945034, detgyldneblad@gmail.com. 
WHAT DOES
DET GYLDNE BLAD
MEAN?
It is Danish and means 
The
or 
That Golden Leaf
.
DO YOU DO PRIVATE COMMISSIONS?
Yes, sometimes. E-mail me about your idea and needs and I'll have a look through and work out a price for you in line with how big the task is.
DO YOU SELL
FRAMED
 PRINTS?
No, not at the moment, but I plan to in the future when I will be able to offer click & collect service. When I participate on markets I usually bring both framed and unframed prints.
CAN I RETURN A PURCHASEMENT FROM YOUR WEBSHOP?
Yes, if your order meets the rules of returning an item bought on the net. For more info go to the section of cancellation and return. 
HOW DO I CONTACT
CUSTOMER
 SERVICE?
As I am a one-woman operation it is me, Stephanie Donsø you'll be personally answered by. 
You can
email
 me on: detgyldneblad@gmail.com.
I'll be happy to help you in any way I can and will be all hears if you have feedback - good or bad about your purchase or the webshop.
WHAT IF MY
PURCHASE
 IS BROKEN WHEN I
RECEIVE
 IT?
I want my customers to be happy and make sure to wrap your purchase as good as possible so that it may not be damaged during its way to your doorstep. I put a lot of work hours in my art so it is important to me that what you order in my shop arrives safely. In Spite of this I can not be held responsible for how the mail service handle your purchase after I ship it. But again, I also want you to be a happy customer. So, do contact me if there is anything and we'll work something out!
MAY I COPY YOUR WORK?
No, you may not. All artwork offered on this site is made by me and is my own and I own it's copyright. It is sold with all rights reserved and is a part of my income. You may not reproduce, copy or share without my permission and I ask highly of you to respect that. Thank you.